Hello again fellow
Braves
fans. It has been awhile since I last put up a fresh blog, but this time of the year is a relaxing time for me personally and now all that is done it is time to get back to blogging.
I guess the news of the week and top banter for Braves beat writers and local sports moguls will be the trade of
Jeff Francoeur
on Friday. While I am not in disagreement with the trade nor am I shocked by it, it is a little suprising that the Braves would trade him within the division. Not only within the division, but to your arch rivals up in Flushing. Though I doubt, this may come back to haunt the Braves in a big way because of the fact that Francouer does have the talent (.293 19 HRs, and 105 RBIs in 2007 and .260 29HRs, and 103 RBIs in 2006) and if he ever gets in with a hitting coach that can get him right (
Andruw Jones
scenario in Texas anyone?) then he could be able to live up to the potential he had labeled on him coming out of the minors. Given the current regime in NY, I seriously doubt we will see this in 2009. However, next year will get very interesting in Flushing. It is no secret with the
Mets
struggles that both manager Jerry Manuel and GM Omar Minaya are on the hot seat with Owner Fred Wilpon. If the Mets continue to falter and lose ground in the NL East again, then major changes will commence in 2010. If a hitting coach comes in and elevates Francoeur's game and the Mets win, then Frank Wren will be viewed as the man who helped the rival Mets beat our beloved Braves. I am thouroughly surprised the Mets gave up (and the fact the Braves received anything of value for Jeff)
Ryan Church
. I don't think Church is a superstar or a difference maker, but he is a nice piece. Nice move so far. Only time will tell what happens here.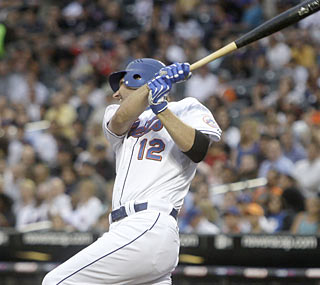 The Braves have been playing well as of late, 6-4 in their last 10, and it has to be a pleasant surprise to see
Martin Prado
and
Matt Diaz
getting playing time and contributing. Keep this up and once Chipper, Mac, and Yunel get going again and the consistency of Garret and Nate as of late the Braves will be looking better going into the second half. Of course they still need a big bat and it looks as if 1B might be where the Braves can look too. More on this in the next blog as we dissect final trade candidates going into the deadline.
Sweeping the
Phillies
was great and taking 2 of 3 from the
Cubs
was definitely nice. (Who else is tired of seeing Cubs fans act like they are on the same stature as the
Red Sox
and
Yankees
? Me personally I wish they would just go back to irrelevancy because last time I checked it has still been 100 years and counting since they last won a WS and over 60 years since they last won a pennant.) However, the Braves need to find a way to handle the
Nationals
. Since the start of 2008 the Braves are 16-16 vs Washington. For a team that will probably lose 100 games, the Braves must beat them and losing 2 out of 3 is not going to cut it. Gotta get better with that going into the second half.
Good prospect news as it was announced last week that future Atlanta Braves
Jason Heyward
and
Freddie Freeman
were promoted from advanced A Myrtle Beach to AA Mississippi. Don't be surprised to see both in Atlanta during September call ups. Remember this is where
Chipper Jones
, Ryan Klesko, Javy Lopez, Andruw Jones, and David Justice came up and made their marks early and earned spots in Atlanta for the future.
The week ahead sees the Braves heading into the All-Star break with a chance to get at .500 on Sunday against the
Rockies
. Then it is wish BMac all the luck in the mid-summer classic and enjoying three restful days back in Atlanta. At the end of the week the Mets and former Brave Jeff Francoeur are in town to open the second half in a 4 game set. Heres hoping the Braves can get off to a fast start and put some distance between them and the Mets and setting sites on the Phillies and
Marlins
for the remainder of the season.